Aladdin's Gold Casino Review
Casino Name: Aladdin's Gold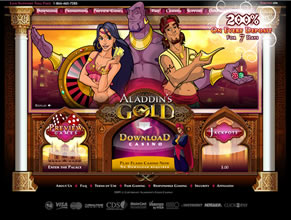 Visit Link: www.AladdinsGoldCasino.com
Software: Real Time Gaming
Flash Casino: Yes!
Payout Percentage: 96.22%
Email: Use Form On Website
USA & Canada Phone: 1-866-465-7285
U.K. Phone: +0800-230-0920
Aladdin's Gold Casino Bonuses & Codes
Initial Slots - 200% To $2,000 Unlimited For 7 Days
Initial Blackjack - 100% To $1,000 Unlimited For 7 Days


Aladdin's Gold Casino Synopsis
Statistically speaking, Aladdin's Gold Casino has become one of the top gaming centers on the market. All of the numbers add up through this casino to provide one of the most popular casino gaming experiences possible. Aladdin's Gold has incorporated every type of game possible, one of the largest welcome bonuses around. Aladdin's Gold Casino was established by one of the online gambling companies that has created a plethora of widely trusted and secure RTG gaming centers, all to provide players with one of the more fascinating possibilities for casino gaming.
We prefer Aladdin's Gold Casino over many other gaming centers, and they have long provided players with a pay out percentage larger than most other casinos. As one of the top RTG casinos online, Aladdin's Gold has become one of our favorite gaming centers available. If you come to Aladdin's Gold Casino, you will see that they emulate an authentic casino experience to the letter, giving you immediate access to the games that you wish to play.
Aladdin's Gold Casino Bonuses
Unlike many other casinos online, Aladdin's Gold Casino does not require bonus codes in order to activate their promotions. Instead, you just have to select them through the cashier. All of the bonus codes are added in instantly, as you can just press a button and have your money added on top of your deposit. Aladdin's Gold Casino bonuses provide an enormous amount of money, all without a hassle. In the event that you do not wish a bonus, you can even decline them through the casino's cashier.
We found that Aladdin's Gold casino offers their players a week long series of bonuses, each of which can be used to collect a 200% match bonus. Aladdin's Gold has no short supply of promotions, as they will give their players a new cash bonus with every deposit you make in that first week. These bonuses are for slot games, though they do also offer table games bonuses for your first week of deposits. All of these bonuses are listed through their cashier, and you can only select those that you wish to accept. These are just the first in a long line of bonuses that can be collected, as we found in our review of Aladdin's Gold Casino.
We also found that Aladdin's Gold offers their players special bonuses on a weekly basis. Their weekly bonuses will provide you a variety of different promotions, including some of the largest slots and table game reload bonuses that can be collected. No matter what bonus you wish to collect, know that you will not always need bonus codes in order to activate them. These bonus codes change on a weekly basis to provide players with the most up to date promotions possible, as well as new ways to keep your bank roll boosted.
Welcome Slots Bonus - 200% to $2,000 (Unlimited For First 7 Days)
Welcome Other Games Bonus - 100% to $1,000 (Unlim First 7 Days)

Weekly & Weekend Reload Bonuses
Aladdin's Gold offers several special promotions throughout the week. The bonus codes can be found on their website and are specific for certain types of games. Good news is that there are several games these can be used for. Go to Aladdin's Gold Casino in order to get the bonus codes for this week.

Aladdin's Gold Bonus Rollover
Every bonus found through Aladdin's Gold Casino comes with its own rollover requirement. These requirements are fairly low. For their introductory slots bonus, you will only have to play through your bonus 25 times in order to get your winnings back in your hands. The wagering requirement is much more fair than some other online casinos. Each individual bonus carries its own rollover requirement, which is generally fairly low. You would be hard pressed to find a casino with easier wagering requirements.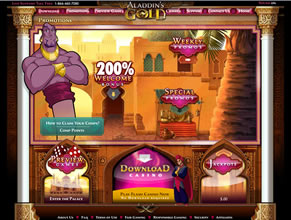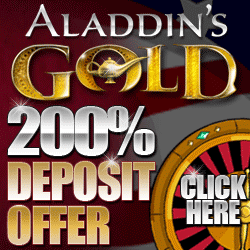 Aladdin's Gold Casino Software
The casino software at Aladdin's Gold Casino is that of the RTG software. Using the RTG software means that you will be met with one providing players with of the most sophisticated and entertaining forms of online casino. This software makes for some of the most easily accessible casinos on the market, offering easy access, quick deposits, and simplified transactions overall.
Having incorporated the RTG software, Aladdin's Gold Casino provides more features than you could ever hope for. Over 100 different games have been added into the software in order to provide players with the most diverse gaming experience possible. They have offered their players slots, video poker, table games and more. The Aladdin's Gold Casino review found that this software operates on any version of Windows, has an instant flash casino for Mac users, and can be adopted to work on a Linux computer. We recommend Aladdin's Gold primarily because they use their software in order to fund this account.
Aladdin's Gold Payout %
One of the main reasons we came to Aladdin's Gold Casino is the fact that their payout percentages are far beyond many other casino's payout rates. They have surpassed 90% payouts on their slot games and video poker, all in the name of fairness. Their table games carry payouts equal to the land based version of these games, all delivered through a mathematically powerful random number generator. Everything is fair and legit. Aladdin's Gold makes a very small percentage off of everything gambled with them. Chances of payout are fairly hight.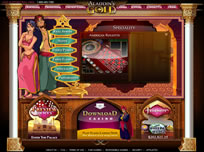 Aladdin's Gold Games
Through Aladdin's Gold Casino, you will find that over 100 games are available to be played. Aladdin's Gold Casino uses the RTG software to its maximum potential. They have over 50 slots, over a dozen types of video poker, and more than a handful of different table games. They have standard table games, as well as Spanish 21, pontoon and much more. Craps, roulette, baccarat and others have all been incorporated into the casino. Every fashion of game you would hope to find in a live, land based casino can be found directly through Aladdin's Gold, which is why we have come to them above many others. Most of their games can also be used with their bonuses. They do have separate bonuses for different games but no matter the game, the bonus is unlimited for 7 days from the time of initial sign up.
Aladdin's Gold Deposits
Depositing into your Aladdin's Gold Casino account should never be difficult. They have incorporated a number of different deposit bonuses in order to provide players with the easiest possible financial situation when it comes to their casino. Credit cards are their primary deposit method, and both VISA and MasterCard can be used in this case. UseMyWallet, MoneylineWallet, and MyPayLinq are their USA e-wallets, while EcoCard, CLick2Pay, NETeller, Moneybookers and INSTADEBIT can all be used by those in the international community. E-checks are one of their best options as well. Every deposit method has a $1,000 initial limit, while NETeller is free from any limits. Note that some deposit methods are not available until you have made other deposits into the casino.
Aladdin's Gold Support
Our review of Aladdin's Gold Casino found that they offer many ways for layers to get assistance in the event that they need help from the casino. Aladdin's Gold will provide you with support through a variety of channels of communication. First and foremost, they have an e-mail service. They also have a phone line, though the e-mail service is recommended for more complex problems. Finally, their live chat service can be contacted, though you will probably end up waiting in line to talk to a representative due to the overwhelming popularity of Aladdin's Gold Casino.