Old Havana Casino Review
Casino: Old Havana Casino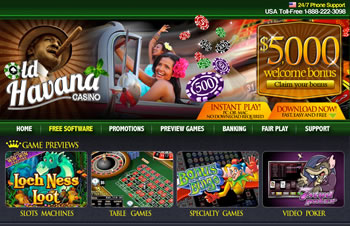 Visit Link: www.oldhavanacasino.eu
Software: Real Time Gaming
Flash Casino: Yes!
Payout Percentage: 97.82%
Email: support@oldhavanacasino.eu
USA & Canada Phone: 1-888-222-3098
Old Havana Casino Bonuses & Codes
Slots Deposit Bonus - 200% to $5,000 (OHC125)
Games Deposit Bonus - 125% to $125 + 25% to $25,000 (OHC125)
MST Gift Card Bonus - $25 Bonus Added To MST Deposits (contact cashier)

Old Havana Casino Synopsis
Old Havana Casino is one of the new kids on the block when it comes to online casinos, having just been recently established. But it is very quickly gaining a reputation as being one of the top online casinos around. Old Havana Casinos implores Real Time Gaming Software, which as anyone who is familiar with the online casino industry knows is right at the top when it comes to quality gaming, and other experiences at an online casino running RTG casino software.
By reading below, you will find out why Old Havana Casino is a great choice for your online gaming experiences, as we review and breakdown the most important aspects of this online casino. Find out about their bonuses, deposits, withdraws, customer service, and of course, the different types of games that are offered to their players.
Can Players From The U.S. Play At Old Havana Casino?
If you are a player in the United States looking for an online casino, then there is good news when it comes to Old Havana. Old Havana Casino accepts players in the U.S. in all 50 states. Sign up for an account today, and gain access to all of the great games and services that they offer throughout the casino. Old Havana casino has been a USA friendly online casino since it began, and it doesn't look like there are any plans to change that.
Old Havana Deposit Bonuses
One of the most important aspects of any online casino are their bonuses. And, Old Havana does not disappoint with their fine selection of online casino deposit bonuses just like most other casinos w/ RTG software.
It starts with a 200 percent match bonus on the first deposit, with a maximum of $5,000 for slots. In order to claim the maximum amount of freeplay for this bonus you would need to deposit $2,500 however it takes much, much, much less to qualify. You will need the bonus code OHC125 to grab this bonus.
Old Havana has a great second deposit (or use it as a first deposit) bonus as well, with a 125 percent bonus up to a maximum of $125 but will then add another 25% past the first $100 deposited all the way up to $25,100. Use the bonus code OHC125 to take advantage of this great second deposit bonus option.
In addition to these deposit bonuses, Old Havana also has various weekly bonuses and RTG bonus codes that can be used to reload accounts. These usually go out through email but you can also check their site for the newest bonuses that can boost your bankroll.
Old Havana Bonus Requirements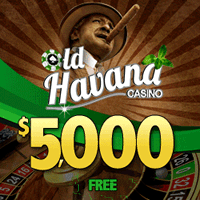 When a player takes a bonus from Old Havana, or really any online casino, it's not simply free money. Well it is in the sense that it's your to play. But, like all the best RTG casino bonuses, you will be required to be played a certain amount before cashing out. This is because the casino doesn't simply want to give you the bonus, and you withdrawal immediately.
It's what's known as a rollover requirement. To make a withdrawal after claiming your bonus, there is a 40X rollover requirement at Old Havana. That means you must wager your initial deposit plus the bonus at least 40 times before cashing out. Once you have played the minimum rollover requirement after taking the bonus, you are allowed to turn it into real cash that you can put in your pocket... or just keep gambling with it.
Old Havana Casino Software
We mentioned it briefly in our opening, but Old Havana Casino operates using RTG casino software, which is really second-to-none when it comes to the online casino industry. RTG makes it easy to download the Old Havana Casino software, and is compatible with every type of computer and operating system whether its a Mac, Windows, PC, laptop or other type of device.
RTG Casinos are widely recognized with providing their players a great gaming experience. Not only that though, Real Time gaming is responsible for more than just graphics and game options. In fact, they deal directly with the casino bonuses that are offered, as well as the various deposit methods, and even safety and security of both the casino and its players.
Old Havana Payout %
The payout percentage is an important number for an online casino. It lets the player know how much of the money that goes into the online casino is paid out on their slots. For Old Havana, that number is 97.82 percent. That means that all of the money that is deposited and played at Old Havana at the slots, 97.82 percent of that is paid out in winnings to their players. This is a very fair payout percentage which means you have a good chance of hitting a jackpot and walking away with some real cash in your pocket.
Old Havana Games
Old Havana has a wide variety of slots, table games, video poker, and specialty games at their players disposal. In fact, these games can even be previewed before signing up for an account, so you can be sure you want to play these games before making a commitment. Plus, Old Havana has a no-download flash version of their casino which allows players to sample games and the only requirement is creating a free account. There is a lot of fun to be had playing all of the different game options at Old Havana, so be sure to check them out.
Old Havana Deposits
Making a deposit into Old Havana is easy. In fact, under their 'Banking' section, the casino lists out all of the available deposit methods to use. For you U.S. players, Visa and MasterCard are accepted forms of depositing into Old Havana, as is a money order. There are no fees associated with any deposit method at Old Havana, which also includes, ClickAndBuy, InstaDebit, MST Gift Cards, and NetTeller. The minimum and maximum deposits are also listed per method, which range from $1-$20. A maximum is also listed, which ranges from $500-$5,000 depending on the method.
Old Havana Support

For questions, comments, or even concerns over Old Havana Casino, they offer you three methods in which they can be contacted. Email them at support@oldhavanacasino.eu 24-7 or call them toll free from the U.S. at 1-888-222-3098. Finally, there is a live chat on site option that is available, which will connect you with a customer representative from Old Havana to answer any and all questions that you may have.